Shopping Cart
Your Cart is Empty
There was an error with PayPal
Click here to try again
Thank you for your business!
You should be receiving an order confirmation from Paypal shortly.
Exit Shopping Cart
| | |
| --- | --- |
| Posted on September 21, 2011 at 2:10 AM | |
I'm currently in the town of Brigus, on day three of my residency at Landfall Cottage (or Kent Cottage, as it used to be called.) This place is amazing. It's so beautiful and peaceful here, and I hope to get lots of work done. I've found the public library, which is the only internet access I have, so I hope to post a couple of things during the next two weeks.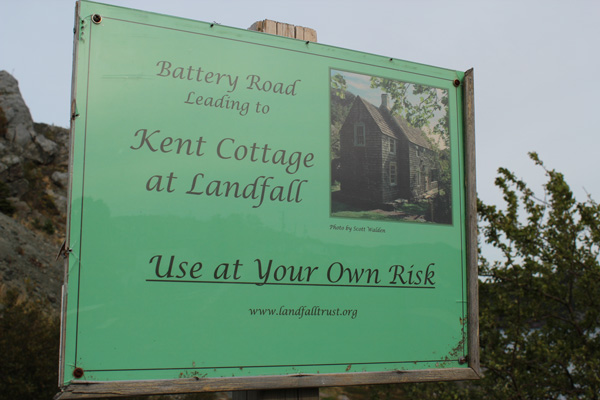 The cottage is about a ten-minute walk from the town (pop. 700), but those ten minutes take me smack-dab into the wilderness. I'm nestled in a little treed pocket in the rocks, with cliffs rising all around me—except for the front of the cottage, which overlooks the bay.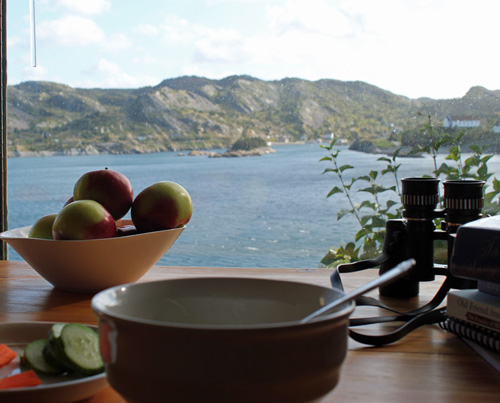 It's actually been hard to write anything, because I keep staring out the windows in wonder. The weather's been beautiful thus far, and I've been out in shorts and t-shirt sunning myself and picking blueberries like mad. It's raining today, and I find at last that I'm able to stay inside and get some work done. I'm curled up by the oil stove, drinking my third cup of percolator coffee and listening to the rain on the roof and the rushing water in the gulley by the far side of the cottage. I hope it rains tonight, since the sound is so relaxing. There have been in the past three nights what I believe to be chipmunks cavorting on the roof, and they've woken me from a dead sleep and scared the bejesus out of me. So perhaps they'll give me some peace if it's wet out. The trees surrounding me are a popular hangout for some seriously huge crows (or are they ravens?) and blue jays. Neither is known for their melodious song, but it creates an interesting racket.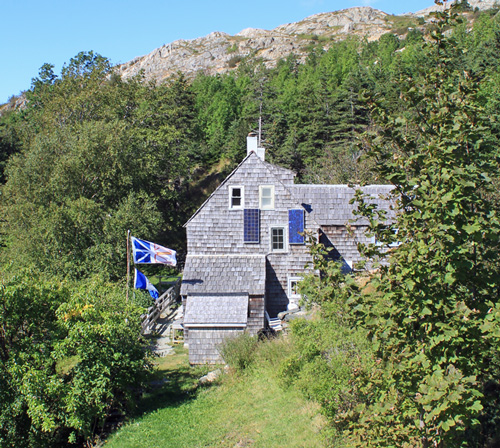 I walked into town yesterday and went to the one café/restaurant for a little human contact. I had their specialty: blueberry crisp with blueberry sauce, and a cup of coffee. Delicious, but so rich I postponed my dinner. On the walk home, I was taking photographs of the rocks and the path, and saw a fox! We stared at each other for a long while and I got a few shots, despite my trembling hands. I had to chuckle, thinking of how only the day before, I had been blithely clambering right where it stood, assuming I wouldn't see any wildlife bigger than a seagull. And speaking of seagulls, when one flew low overhead, the little fox hopped up on its hind legs and made as though to snatch the gull right out of the sky. Cheeky bugger! I wish I had caught that with my camera.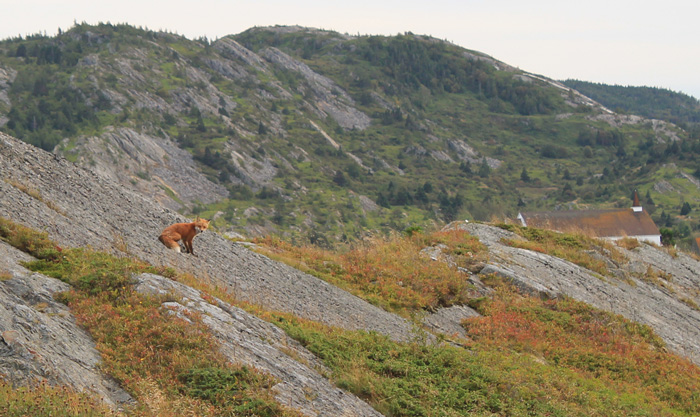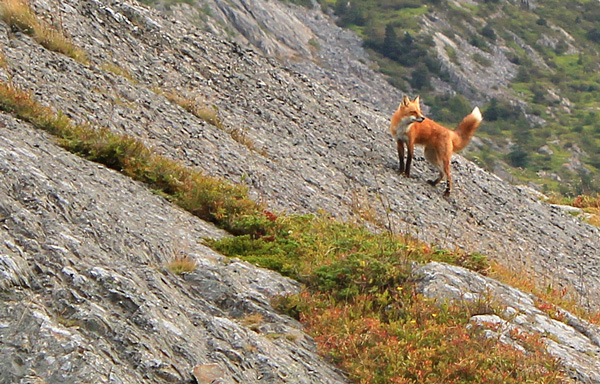 The days are easy here, but when night falls, it gets a little weird. I have this "thing" about dusk anyway—it's my least favourite time of day. I just feel so sad and creeped out by twilight, even at the best of times. So here, I feel quite skittish and neurotic as the evening progresses. Each night, I plan to head to bed a bit earlier and wake earlier, so that I can make the most of the daylight and avoid the nighttime blues. There's no television, internet, or telephone, but I have my books and my CBC radio to keep me company. Once I turn off the solar inverter, I don't have a light in the bedroom, but I've rediscovered the joys of reading under the covers with a flashlight!
More to come soon. Thanks for reading. J. xoxo
Categories: Jenn Farrell, Events
/