Shopping Cart
Your Cart is Empty
There was an error with PayPal
Click here to try again
Thank you for your business!
You should be receiving an order confirmation from Paypal shortly.
Exit Shopping Cart
The Devil You Know got picked as one of Stuart Derdeyn's Weekly Fun Five!

I'm honoured to be in the same ranks as the PNE, and delighted that someone out there considers TDYK to be great beach reading….
This festival, held October 14th to 17th, 2010, celebrates its ninth year with one heck of a lineup. I'll be delivering a double-whammy on Saturday the 16th, first with a panel discussion on "The State of Book Publishing Today", and then an epic evening reading alonside superstars like Caroline Adderson, Brian Bett, and so many more. Best of all, the event is emceed by my old pal Stephen Vogler, whom I'm sure is just itching to buy me a beer. Go here for more info, including a PDF of the complete festival program, and how to purchase tickets. See you on the mountain!
Cross your fingers for good weather, and come on out to the Vancouver Word on the Street festival on September 26, 2010. How great is it? Pretty darn great! It's arguably the most fun you can have for free, with tons of awesome readers, events, and exhibitors. I love seeing familiar faces year after year, as well as finally getting to chat face-to-face with people I've often only "met" online. I'll be reading from The Devil You Know at the "Canada Writes" tent at 1:20 (right after my friend Chris Meades) and I'll be happy to sign a book for you or just say hi. See you there!
It was a hot night in the city on July 22, and the back room of Vancouver's Railway Club was filled beyond capacity with sweaty, festive bodies clad in devilish attire. All these fine folks had come out to celebrate the launch of my latest book, The Devil You Know. Truly, it was the nicest version of hell I've ever seen. Thanks to everyone who attended and made the night a roaring success (we sold every book in the joint)!
Here's a few snaps from the event, with more to come soon…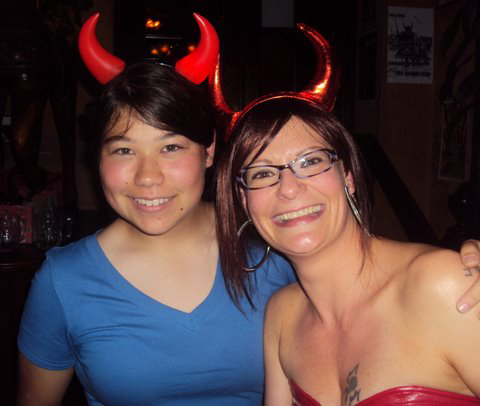 Me (right) and Katrina (left), one of my awesome former students from the Hot Ink program.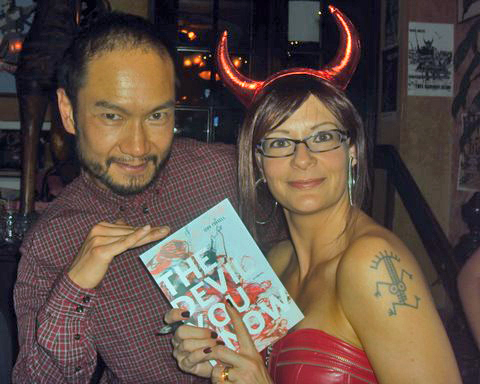 Me (right) and my pal Gary (left), aka "The Closer", looking chic in the heat.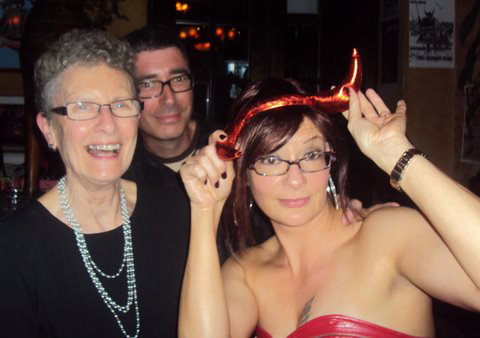 My lovely husband and mother-in-law. They're the best!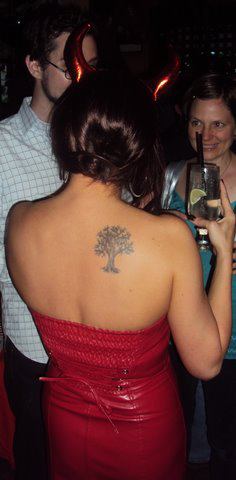 This dress is 100% polyvinylchloride. Yep, that's PVC. Not a super-breathable fabric, it turns out.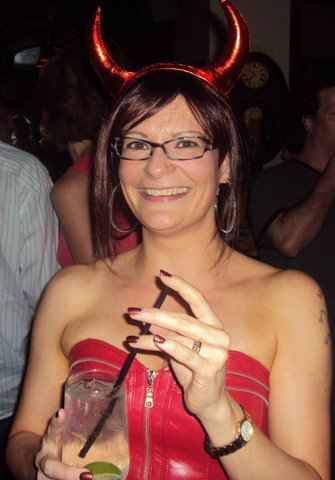 Cooling off with the first (or third?) of many refreshing cocktails.
Photo credits for above: Erin Culhane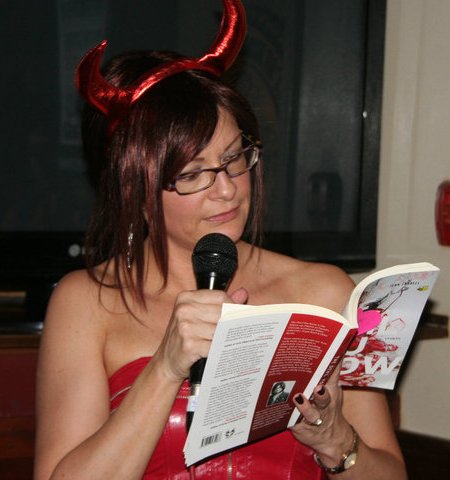 Starting my reading and realizing that this corner of the bar is really bloody dark.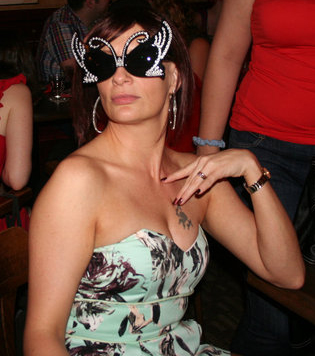 Back in a breathable material and showing off my swell sunglasses (thanks, Gaye!)
Photo credits for above: Gaye Fowler 

Hey folks, if you're in Vancouver on July 22nd, you should come on down to the launch of my brand-new book of short stories, The Devil You Know. It's in the back room of the legendary Railway Club, with readings, drinks, music, and devil-related wackiness--holy cow, will it be fun! The last time I was at a party in this location, I wound up serving Reddi-Whip off my decolletage. Can I deliver that level of hijinks again? Come and find out!
I'll be reading from the new book, and copies will be available for sale. If you're very good, I'll sign it and possibly write something rude in it. Heck, the contents alone should warrant a Parental Advisory sticker...
It's a free event, and there will be some nifty prizes too! It's a come-as-you-are event, but devil-themed attire is definitely welcomed. Bring your own pitchfork.
So, to recap:
The Devil You Know Launch
Thursday, July 22nd 7:00 p.m.
Back Room at the Railway Club
579 Dunsmuir Street
Be there.
/