Shopping Cart
Your Cart is Empty
There was an error with PayPal
Click here to try again
Thank you for your business!
You should be receiving an order confirmation from Paypal shortly.
Exit Shopping Cart
There's nothing better than a book with good legs. Nearly a year after its publication, The Devil You Know is still being talked about, reviewed, and presumably, even read on occasion. That makes me sigh with delight. After all, you work on something for a few years, and then this weird thing happens where the "official" book press is only allowed to talk about it for a few weeks before and after its release. So, thanks, readers and reviewers!
First up: The long and thoughtful review by Joyce Nickel over at Belletrista. Gotta love someone who picks up a title on the recommendation of BC Bookworld! I'm really glad this review exists, not just for the usual selfish reasons, but because now I've got Belletrista in my bookmarks.
Next, an oldie but a goodie. It took me a while to find this one, but I don't feel so bad, since the site is called Backlisted. See, everyone's playing catch-up!
And then, I get paired up with boys. I'm cool with that, especially since they're awesome. My pal Dennis E. Bolen (author of Anticipated Results) is the star of the show in Quentin Mills-Fenn's review at Uptown. And over at The Malahat Review, I share the stage with the heavy-hitting author of Light Lifting, Alexander MacLeod, thanks to reviewer June Halliday.
Much later this summer, I'll be bringing my book to Hamilton, St. John's, and whoever else will have me. Stay tuned.
Hey, you should totally go bookmark That Shakespearean Rag. It's a damn good blog, and Steven W. Beattie is my new best friend, because he chose "Soft Limits", one of the stories in The Devil You Know, as a selection for his  "31 Days of Stories" series. Very cool! Don't just read mine, though, cos every entry is great and will most definitely turn you on to some terrific new short-story writers and reacquaint you with old favourites.
"There's a rainbow in Toronto, where the Maritimers (and West-coasters) are bold…"
Greetings, Toronto friends! This is just to put you on notice that I'm heading to your great city for the Central Canadian launch of The Devil You Know. Now that TIFF is over, I figured they'd have a red carpet or two going spare…
You can visit the Facebook event page here and RSVP, but the particulars appear below anyway.
Date: Friday, October 8
Time: 7 to 10:30 PM
Place: Toronto Free Gallery, 1277 Bloor Street West
I'll be reading and signing books (my own book, with any luck) and generally launching the hell out of Devil. 
Also reading will be Jessica Westhead, author of Pulpy & Midge. Please come; I've love to see you. It should be a blast! 
An amazing review in the Georgia Straight for The Devil You Know! The link is here, but it's also below.
By Jennifer Croll, August 24, 2010
The Devil You Know is Vancouver writer Jenn Farrell's second collection of short fiction, following 2006's Sugar Bush and Other Stories. With these two successive books, Farrell effectively forges her image as a bad-ass version of Alice Munro. Like Munro, she's a short-story writer who focuses on the lives of girls and women in small-town Canada, but Farrell's characters get high on mushrooms and dabble in BDSM.
The title story in Devil centres on Cynthia, a teenager we meet at a debauched house party. Like many of the book's characters, Cynthia likes to drink, swear, and fuck, and she does it all underage. But for all her wild behaviour, she's no victim. Cynthia tires of her drug-dealing older beau, leading to a breakup where, instead of begging for her love, her boyfriend asks for "one last blowjob". Cynthia denies him and walks off, expressing her ambivalence with words that are particularly evocative in their teenage inarticulateness: "I feel kind of sick, but also very tall. It's weird." For the women in this book, it's a recurring sentiment when it comes to their relationships with men (and other women, too).
The least developed characters in Devil are all male. They're mostly incidental to the plot, so this isn't much of a problem—the only story told from a male perspective is "Pen Pal", a twisted confessional where an anonymous man fetishizes a convicted killer unmistakably modelled on Kelly Ellard. There's a disturbing satisfaction for the reader when the creepy protagonist ultimately envisions the Ellard clone asphyxiating him in a prison trailer.
Throughout the book, Farrell excels at capturing uncomfortable realities and mixed feelings; for this reason, most of her characters feel real. In "Grimsby Girls", a series of short interview-style excerpts about how girls lost their virginity, mostly in totally underwhelming or awful ways, the narrator pointedly answers the question critics might have about how much of this is really fiction: "What if I had made some of them up? Would you be able to tell the difference? Would it matter?"
Probably not. What Farrell has created here will ring true for any girl who's ever faked an orgasm or thrown up at a house party and continued on with life, undeterred—which is probably more of them than you'd think.
The Devil You Know got picked as one of Stuart Derdeyn's Weekly Fun Five!

I'm honoured to be in the same ranks as the PNE, and delighted that someone out there considers TDYK to be great beach reading….
Cross your fingers for good weather, and come on out to the Vancouver Word on the Street festival on September 26, 2010. How great is it? Pretty darn great! It's arguably the most fun you can have for free, with tons of awesome readers, events, and exhibitors. I love seeing familiar faces year after year, as well as finally getting to chat face-to-face with people I've often only "met" online. I'll be reading from The Devil You Know at the "Canada Writes" tent at 1:20 (right after my friend Chris Meades) and I'll be happy to sign a book for you or just say hi. See you there!
It was a hot night in the city on July 22, and the back room of Vancouver's Railway Club was filled beyond capacity with sweaty, festive bodies clad in devilish attire. All these fine folks had come out to celebrate the launch of my latest book, The Devil You Know. Truly, it was the nicest version of hell I've ever seen. Thanks to everyone who attended and made the night a roaring success (we sold every book in the joint)!
Here's a few snaps from the event, with more to come soon…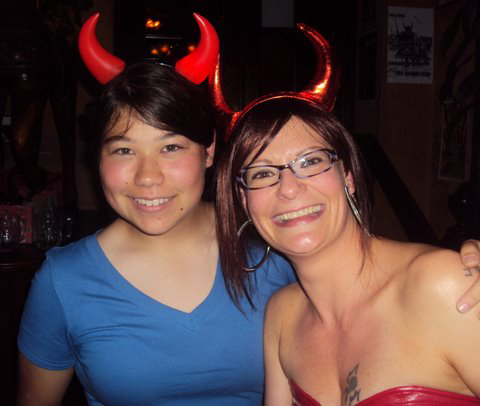 Me (right) and Katrina (left), one of my awesome former students from the Hot Ink program.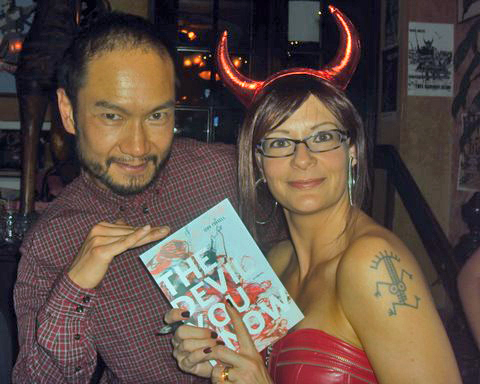 Me (right) and my pal Gary (left), aka "The Closer", looking chic in the heat.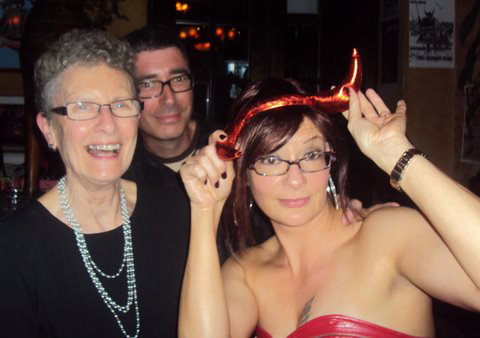 My lovely husband and mother-in-law. They're the best!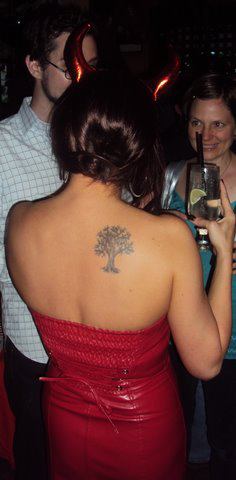 This dress is 100% polyvinylchloride. Yep, that's PVC. Not a super-breathable fabric, it turns out.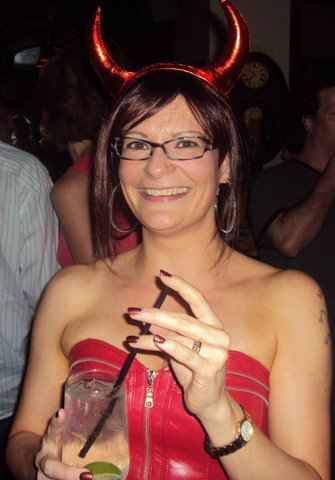 Cooling off with the first (or third?) of many refreshing cocktails.
Photo credits for above: Erin Culhane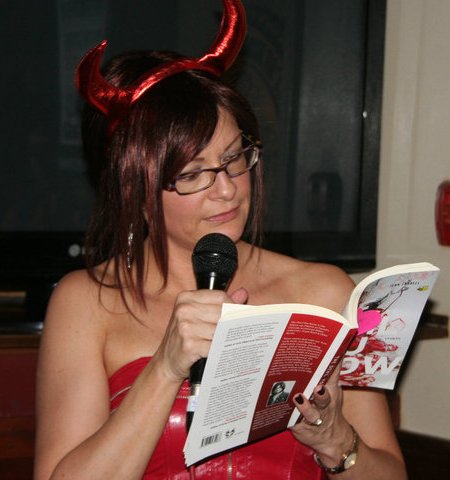 Starting my reading and realizing that this corner of the bar is really bloody dark.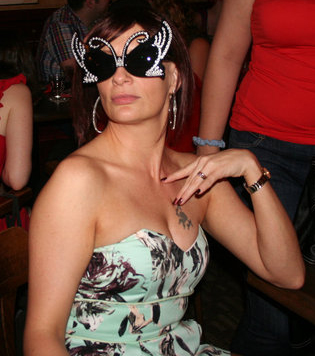 Back in a breathable material and showing off my swell sunglasses (thanks, Gaye!)
Photo credits for above: Gaye Fowler 

Hey folks, if you're in Vancouver on July 22nd, you should come on down to the launch of my brand-new book of short stories, The Devil You Know. It's in the back room of the legendary Railway Club, with readings, drinks, music, and devil-related wackiness--holy cow, will it be fun! The last time I was at a party in this location, I wound up serving Reddi-Whip off my decolletage. Can I deliver that level of hijinks again? Come and find out!
I'll be reading from the new book, and copies will be available for sale. If you're very good, I'll sign it and possibly write something rude in it. Heck, the contents alone should warrant a Parental Advisory sticker...
It's a free event, and there will be some nifty prizes too! It's a come-as-you-are event, but devil-themed attire is definitely welcomed. Bring your own pitchfork.
So, to recap:
The Devil You Know Launch
Thursday, July 22nd 7:00 p.m.
Back Room at the Railway Club
579 Dunsmuir Street
Be there.
/