Shopping Cart
Your Cart is Empty
There was an error with PayPal
Click here to try again
Thank you for your business!
You should be receiving an order confirmation from Paypal shortly.
Exit Shopping Cart
Writing is a lonely business. January is a bleak month. Add in the post-holiday doldrums, and you've got a recipe for a crabby, dejected writer.
So yesterday was a real bright spot. I went and spent a few hours with the gals at Intrepid Pens, and emerged feeling better about my work than I had in weeks. Intrepid Pens, for those of you who don't know, is a creative writing and reading group for women in Vancouver's Downtown Eastside.
I went there with some writing exercises and "lessons" in hand, but also with a new story to read and just some general ideas for discussion. I love presenting for a lot of reasons—I like to be useful, I like to hope that I can motivate or inspire people, and I like to swap ideas with like-minded individuals. But what I got yesterday was so much more. I can't tell you everything, but let's just say that I think I selfishly took more away than I gave. It's not very often you find yourself in a group of people who are so generous with their support and their stories.
Here's what I took away: Our stories are all we have. When we die, everything dies with us: our petty disagreements, our unfinished business, our grudges. But most of all, the history of who we are as only we can understand it. When we slip from this world, that unique experience, that one-of-a-kind mind goes with us. (I knew this to be true when my mother died. It made me realize how little I really knew about her life, and her experiences, because she wasn't able/willing to share those things. In the absence of our shared battles, what was left?) All that we can truly leave behind for others are our stories. Our stories are how our children and our friends will remember us. We are obliged to share them as best we can, and as honestly as we can, and in the medium that makes sense for us. It could be writing, or painting, or talking, or whatever works.
Organizations like this one are the reason I keep on teaching and presenting and doing what I do, even when I get disillusioned in the dark of it all.
I urge you to learn more about Intrepid Pens and find a way to contribute: with your time, energy, connections, or money. It won't be wasted. Thank you to the fine ladies of Intrepid Pens, and to Amanda, who puts the whole thing together and is the coolest. I should have been the one bringing you ladies flowers!
Today is Tuesday. I pull up stakes for St. John's on Friday. How can this be? My father always said, of our two-week summer vacation in Myrtle Beach, South Carolina, "The first week, you think you've got all the time in the world. And the second week goes by so fast you're packing up the car before you even know what happened." Truer words were never spoken, Dad.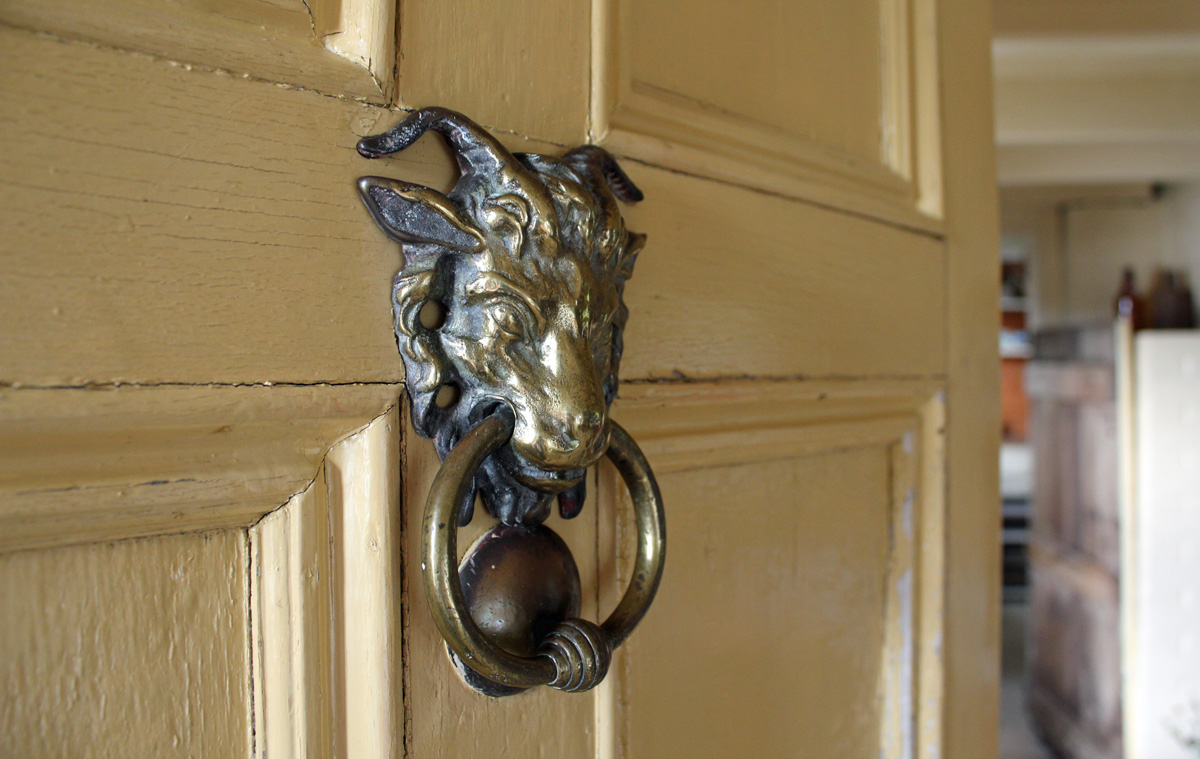 Won't you come in?
Each day since Saturday actually feels like sand running through the glass. Every time I look at the clock, I shake my head in disbelief. Three o'clock already? But I just got started! There is still so much writing to do, so many books to read, so many strange little Landfall nooks and crannies to explore, both indoors and out. Much like the child who couldn't bear to leave her holiday hotel behind, I feel myself digging in my heels. No, I won't go—they can't make me! I'm just getting good at this! I finally got Jake's finicky old red radio to work like a dream—if that isn't a sign to stick around, I don't know what is. I've made friends, sort of, with that damn squirrel in the attic. I confidently walk outside in the dark (from one end of the house to the other, but still!).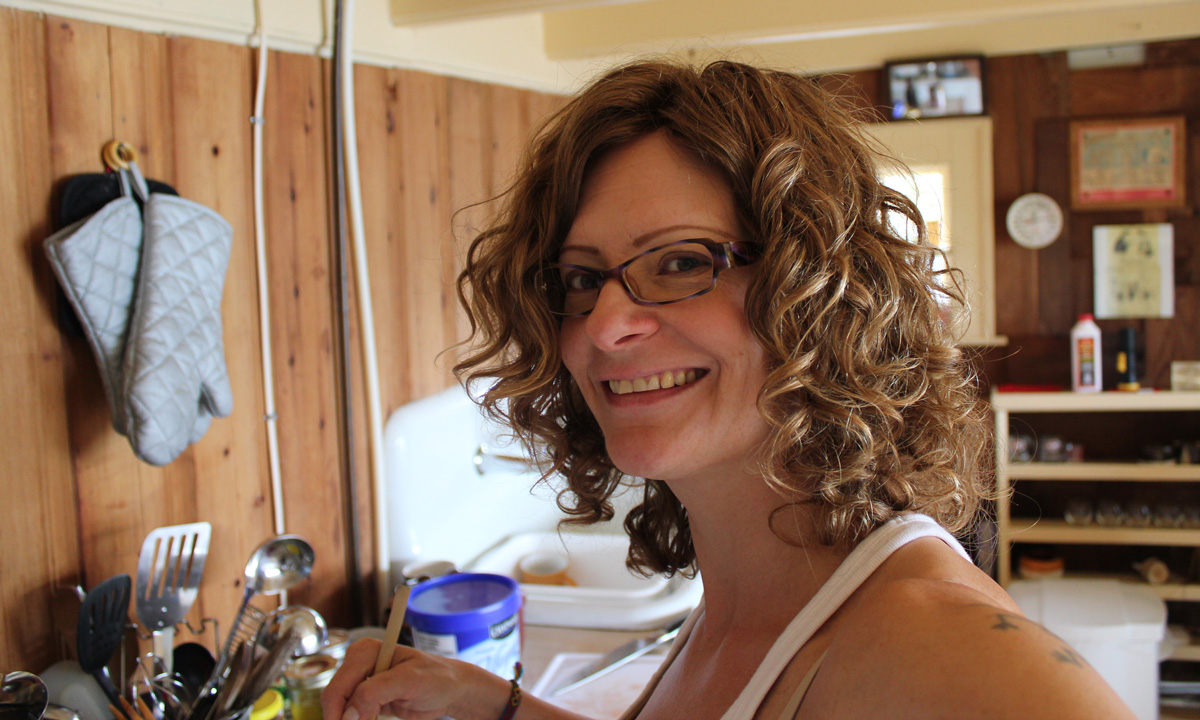 Just whippin' up a little something...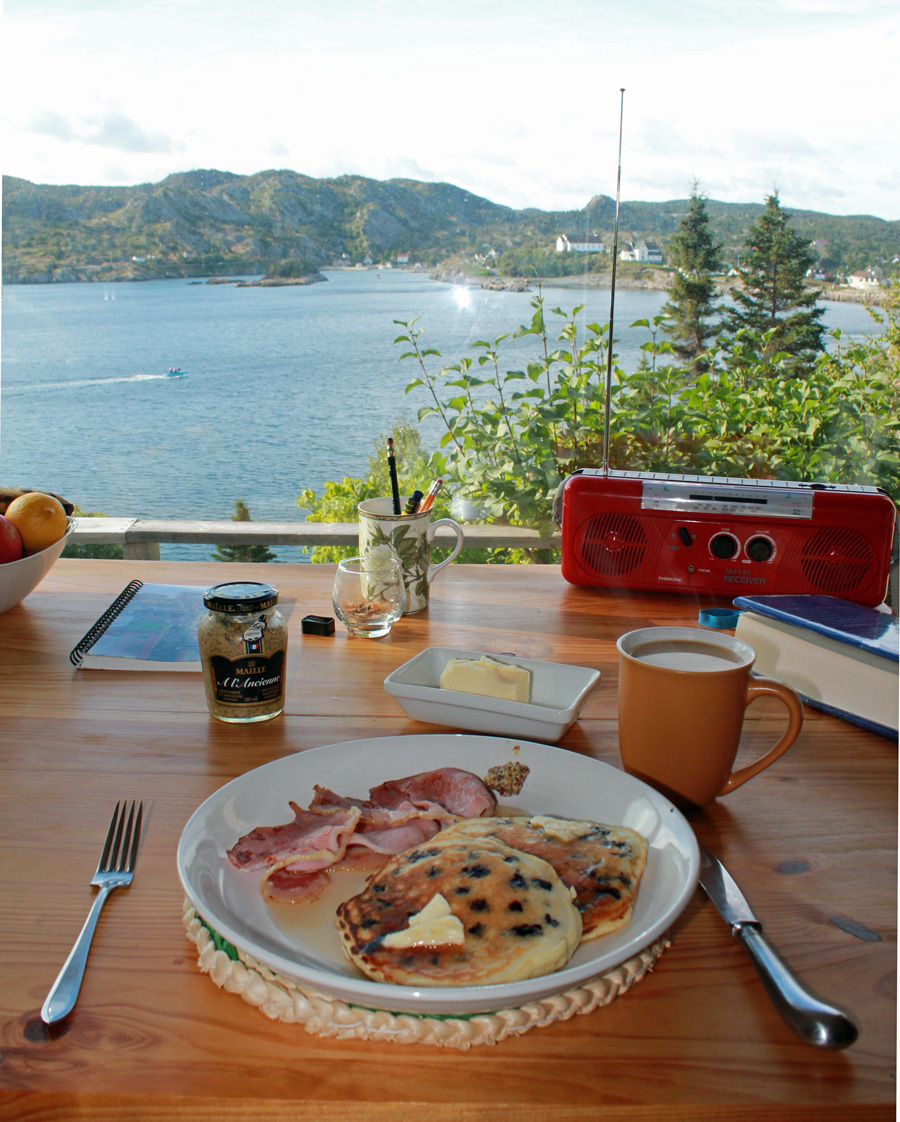 Oh darn, there's just enough for me!
The clouds roll along the bay, always hurrying along like they've got somewhere else to get to. One looks like a cartoon whale, another is a triangle of salt cod, yet another is a flat-bottomed boat taking on water and sinking fast in the sky. Light breaks through at the most surprising moments. The sky is easier to understand than the water. It is a dark and shifting mirror of the sky, but reveals nothing. It sparkles like tiny sequins on blue satin, then turns flat and glassy and grey and makes strange patterns that seem to run counter to the wind. Things are happening under there, and I don't know what they are. The boats go out and come in again, seagulls trailing like clouds of huge white flies.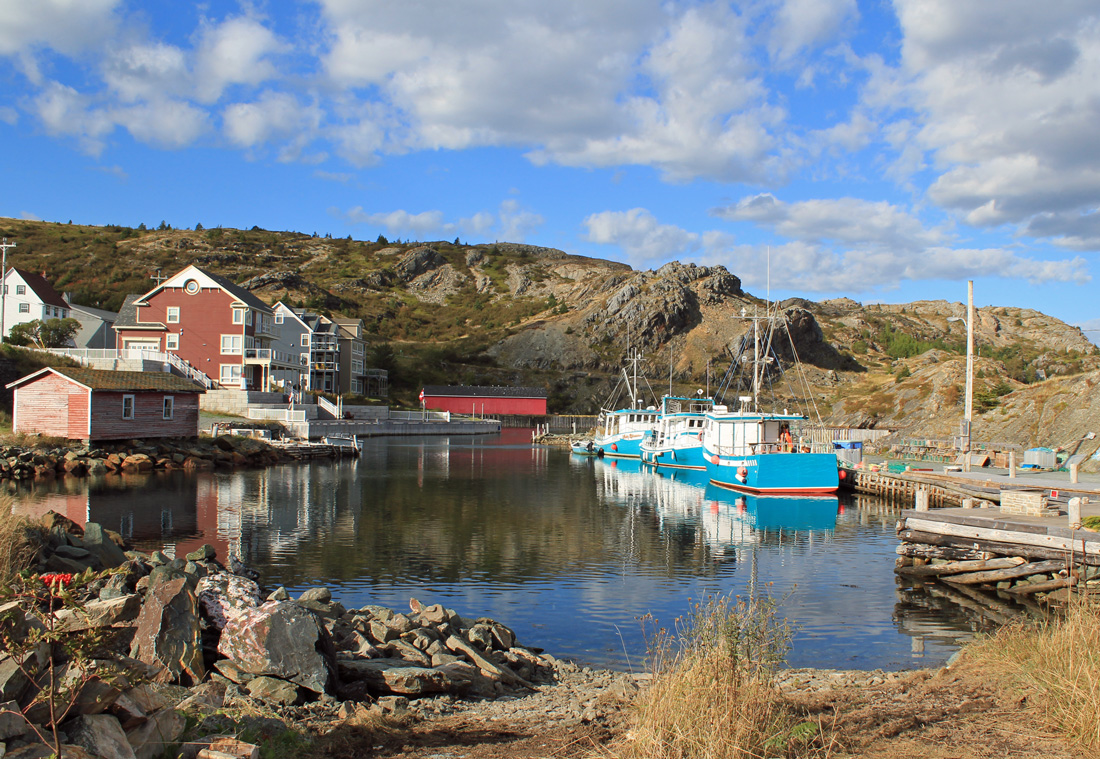 Yeah, it actually looks like this here.
The rocky hills across the water turn pink and orange and gold and then—honest to god—purple and green and silver in the dying light of the early evening. I fire up the oil stove for another night in, make a pot of tea, or decide to have that second beer after all. I work on a story on my laptop, or write in my journal, using what I imagine to be one of Jake's weatherbeaten old pencils. I read and eat in the dusky light at the window until I have to put the light on. I listen to Neil Young and watch the sunset. Neil sings:
I'm thankful for my country home
It gives me piece of mind
Somewhere I can walk alone
And leave myself behind
Another day draws to a close...
The stars come out, shyly at first, like pretty girls on a dance floor, and then they're all there in a blink. At first, I though the Milky Way was a cloud, it had been so long since I'd seen it. I phone a friend back in Vancouver, where it's still light out and everyone is busy, busy, busy. I tell her about the stars and as I'm telling her, I see a falling one. I'm too excited to remember to make a wish. What the hell could I wish for, anyway?
It will probably surprise exactly none of you to hear that I'm not much known as a "rugged adventurer." I'm the kind of gal who loves NOT camping, and whose idea of roughing it is staying in a hotel where the ice machine is on a different floor. So just being out at Landfall is a big deal. Being alone is, as goofy as it might sound, a huge act of bravery for me. As Ron, the cottage caretaker and all-around swell guy, said to me when he dropped me off, "If you're gonna be out here, you'd better like yourself."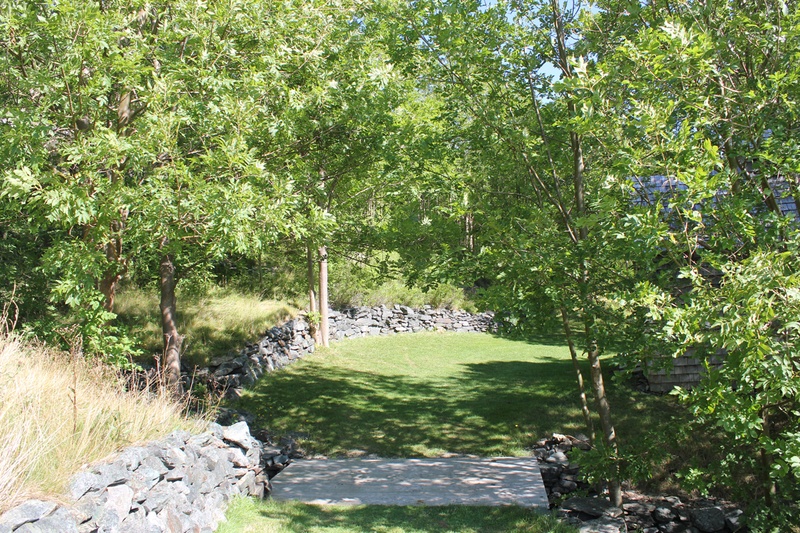 Well, I guess that's the problem, isn't it? I'm not sure if I like myself enough to spend this much time on my own. My idea of relaxation is being surrounded by people. When I feel lonely in the city and have no one to talk to, I like to walk through a crowded mall. How can a person feel isolated with so many other strangers, so many bright and shiny distractions?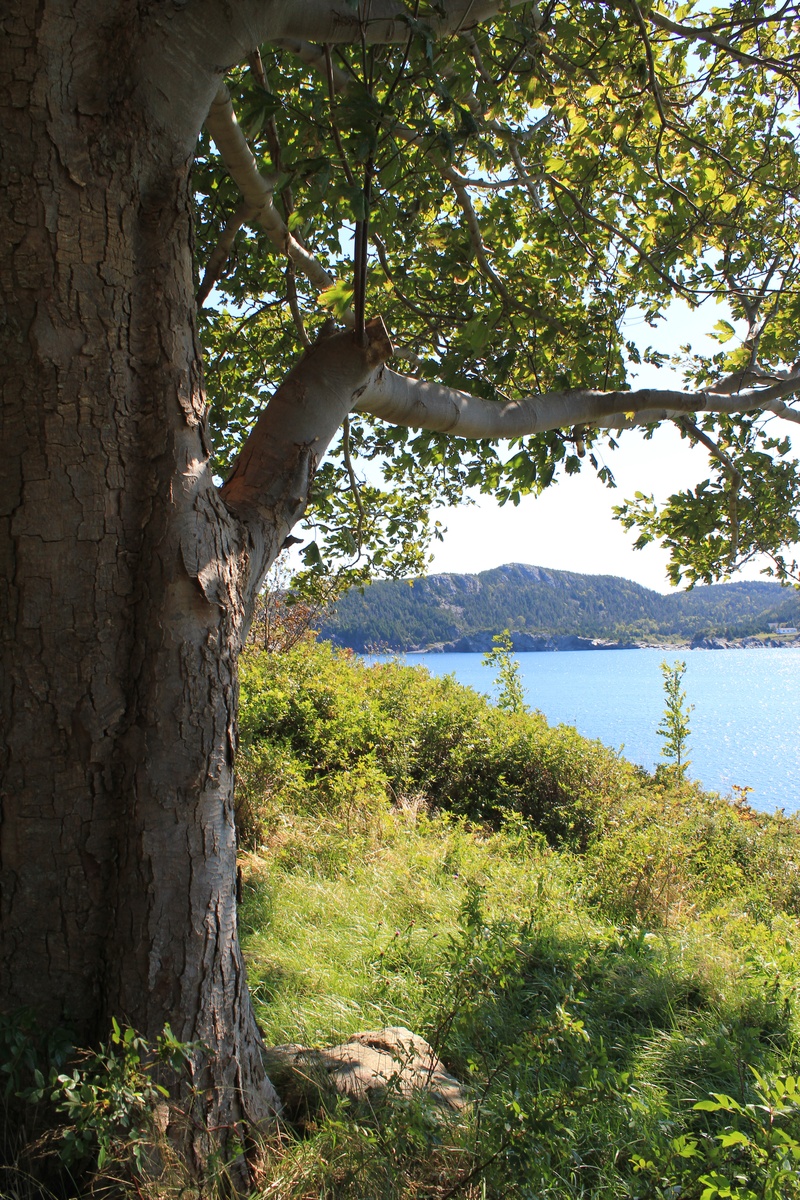 But as I near the end of the first of my two weeks here, I feel like I might be (kind of, sort of) getting the hang of this. The thing about being left alone with one's own thoughts is that they won't be ignored. Can't drown them out with television or the internet or the sounds of the city, or shopping malls. And as uncomfortable as some of those thoughts might be, every once in a while a good idea floats through there. And my life is quiet enough now that I can actually hear it, and hold on to it. I didn't start any brand-new material (other than a personal daily journal) until yesterday, but I think I needed all that time to just be able to hear what was going on inside my head. Once I got past the "Oh god, why are you here you can't do this you're not cut out for this you're obviously a crazy woman who needs to be on drugs", then it was time for an idea. And it's a good one.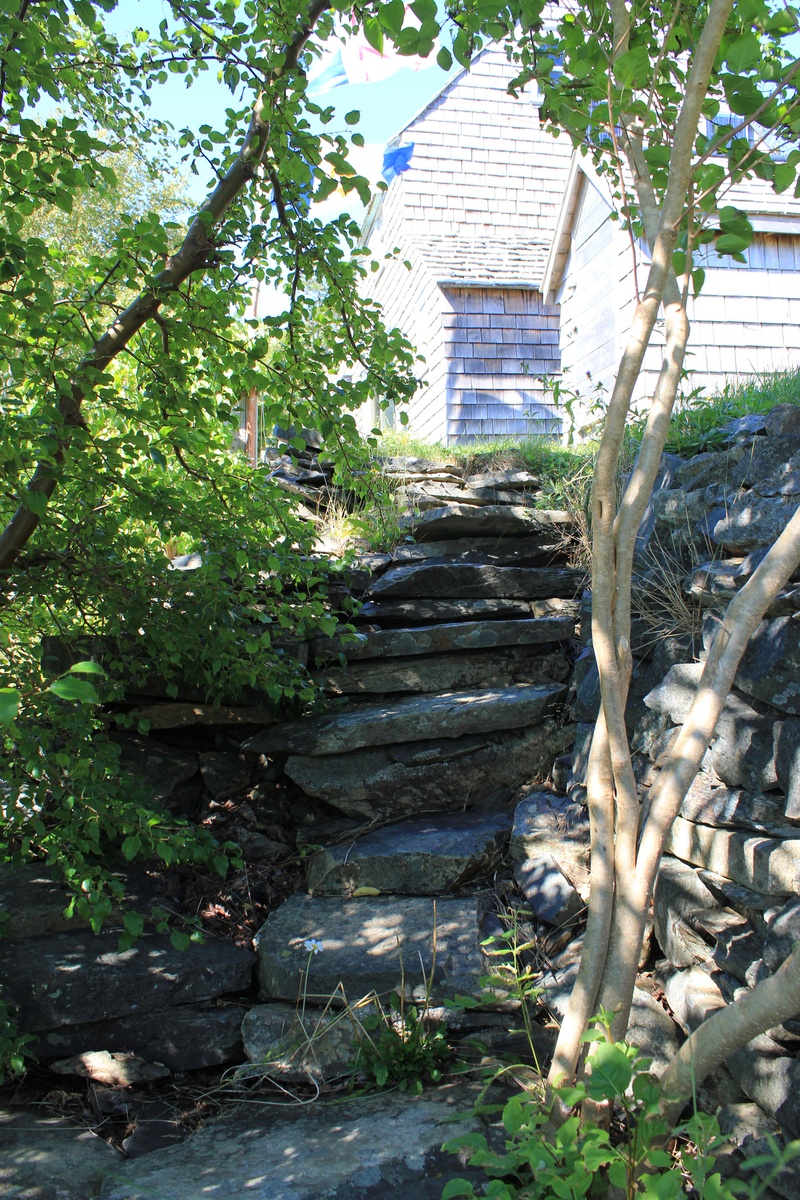 I started this entry to tell you about a brave little hike I did all by myself, with amazing high-up pictures and everything, but it turned into this instead. I guess I needed to get it out. So here are some more shots of "my yard", including the walkway up to the cottage and the lovely little dell right out front.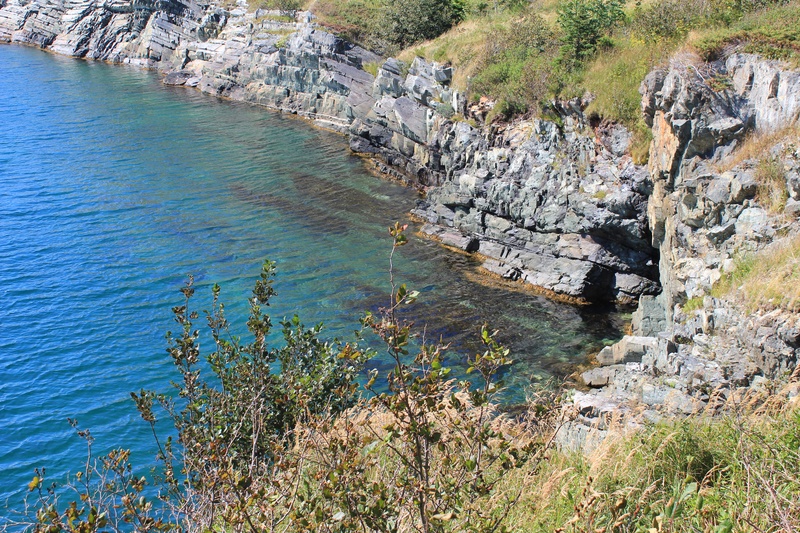 One picture I wish I could share with you is the image of three very smart-looking blue jays who pal around outside my kitchen window every morning. I see them as I come downstairs, but they're awfully camera shy. Once they spot me, they're usually gone for the day. Until tomorrow.
I'm currently in the town of Brigus, on day three of my residency at Landfall Cottage (or Kent Cottage, as it used to be called.) This place is amazing. It's so beautiful and peaceful here, and I hope to get lots of work done. I've found the public library, which is the only internet access I have, so I hope to post a couple of things during the next two weeks.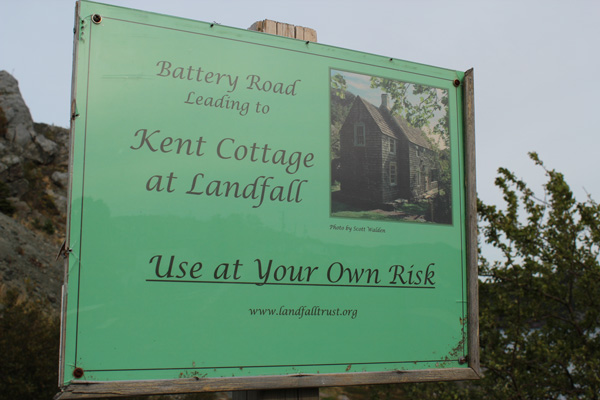 The cottage is about a ten-minute walk from the town (pop. 700), but those ten minutes take me smack-dab into the wilderness. I'm nestled in a little treed pocket in the rocks, with cliffs rising all around me—except for the front of the cottage, which overlooks the bay.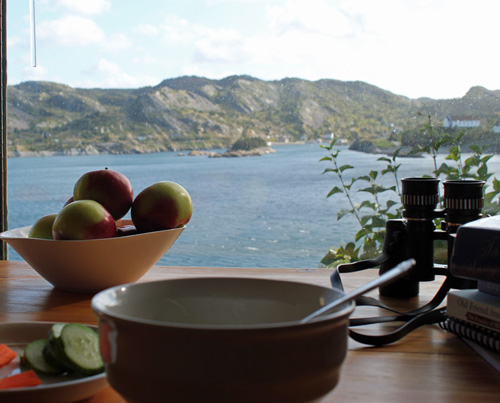 It's actually been hard to write anything, because I keep staring out the windows in wonder. The weather's been beautiful thus far, and I've been out in shorts and t-shirt sunning myself and picking blueberries like mad. It's raining today, and I find at last that I'm able to stay inside and get some work done. I'm curled up by the oil stove, drinking my third cup of percolator coffee and listening to the rain on the roof and the rushing water in the gulley by the far side of the cottage. I hope it rains tonight, since the sound is so relaxing. There have been in the past three nights what I believe to be chipmunks cavorting on the roof, and they've woken me from a dead sleep and scared the bejesus out of me. So perhaps they'll give me some peace if it's wet out. The trees surrounding me are a popular hangout for some seriously huge crows (or are they ravens?) and blue jays. Neither is known for their melodious song, but it creates an interesting racket.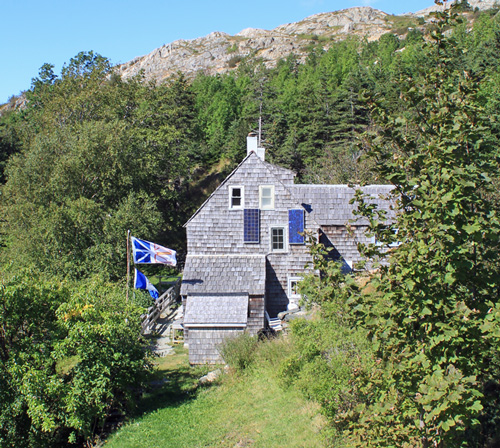 I walked into town yesterday and went to the one café/restaurant for a little human contact. I had their specialty: blueberry crisp with blueberry sauce, and a cup of coffee. Delicious, but so rich I postponed my dinner. On the walk home, I was taking photographs of the rocks and the path, and saw a fox! We stared at each other for a long while and I got a few shots, despite my trembling hands. I had to chuckle, thinking of how only the day before, I had been blithely clambering right where it stood, assuming I wouldn't see any wildlife bigger than a seagull. And speaking of seagulls, when one flew low overhead, the little fox hopped up on its hind legs and made as though to snatch the gull right out of the sky. Cheeky bugger! I wish I had caught that with my camera.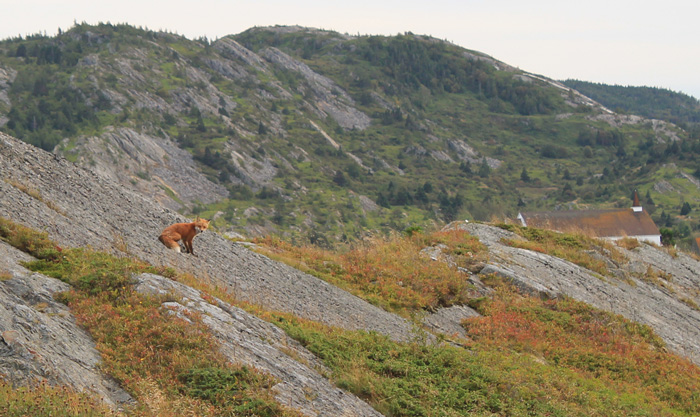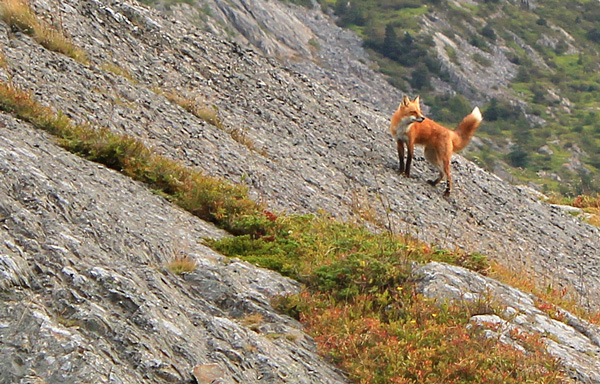 The days are easy here, but when night falls, it gets a little weird. I have this "thing" about dusk anyway—it's my least favourite time of day. I just feel so sad and creeped out by twilight, even at the best of times. So here, I feel quite skittish and neurotic as the evening progresses. Each night, I plan to head to bed a bit earlier and wake earlier, so that I can make the most of the daylight and avoid the nighttime blues. There's no television, internet, or telephone, but I have my books and my CBC radio to keep me company. Once I turn off the solar inverter, I don't have a light in the bedroom, but I've rediscovered the joys of reading under the covers with a flashlight!
More to come soon. Thanks for reading. J. xoxo
Probably not the best time to be writing this, as I'm in the grip of pre-travel anxieties, but I'm hitting the road and doing some readings in Ontario and Newfoundland this September.
First up, I'll be on the bill for the first LitLive reading of the fall season in Hamilton. I had such a great time at GritLit a couple years back, and I'm hoping to see some familiar faces at the SkyDragon Centre.
The following week, I'll be heading to Newfoundland, a trip I've wanted to take for many years. I don't have all the details yet, but I'll be doing a reading at the Ship Pub on the evening of September 11th. Exciting!
After that, I'll be heading to Kent Cottage, where I'm honoured to serve as the Landfall Trust's Writer-in-Residence. Two weeks of glorious writing solitude, broken only by walks and talks in the community of Brigus. If you're in the neighbourhood, please come and visit. I hear the nearest grocery store is quite a ways away, so if you bring food, I'm more likely to let you in!
The people behind the 2010 Whistler Writers Festival recently asked their guest authors, "What is the word that explains your writing?" After mulling it over for a bit, here is how I responded.
I enjoyed all the responses actually. Looking at them on the page, they suggest the framework for an interesting sentence: Juxtaposition If Raw Discourse Loss Anxiousness. Sprinkle with verbs and soak in writerly introspection for an uncomfortably prolonged period...
An amazing review in the Georgia Straight for The Devil You Know! The link is here, but it's also below.
By Jennifer Croll, August 24, 2010
The Devil You Know is Vancouver writer Jenn Farrell's second collection of short fiction, following 2006's Sugar Bush and Other Stories. With these two successive books, Farrell effectively forges her image as a bad-ass version of Alice Munro. Like Munro, she's a short-story writer who focuses on the lives of girls and women in small-town Canada, but Farrell's characters get high on mushrooms and dabble in BDSM.
The title story in Devil centres on Cynthia, a teenager we meet at a debauched house party. Like many of the book's characters, Cynthia likes to drink, swear, and fuck, and she does it all underage. But for all her wild behaviour, she's no victim. Cynthia tires of her drug-dealing older beau, leading to a breakup where, instead of begging for her love, her boyfriend asks for "one last blowjob". Cynthia denies him and walks off, expressing her ambivalence with words that are particularly evocative in their teenage inarticulateness: "I feel kind of sick, but also very tall. It's weird." For the women in this book, it's a recurring sentiment when it comes to their relationships with men (and other women, too).
The least developed characters in Devil are all male. They're mostly incidental to the plot, so this isn't much of a problem—the only story told from a male perspective is "Pen Pal", a twisted confessional where an anonymous man fetishizes a convicted killer unmistakably modelled on Kelly Ellard. There's a disturbing satisfaction for the reader when the creepy protagonist ultimately envisions the Ellard clone asphyxiating him in a prison trailer.
Throughout the book, Farrell excels at capturing uncomfortable realities and mixed feelings; for this reason, most of her characters feel real. In "Grimsby Girls", a series of short interview-style excerpts about how girls lost their virginity, mostly in totally underwhelming or awful ways, the narrator pointedly answers the question critics might have about how much of this is really fiction: "What if I had made some of them up? Would you be able to tell the difference? Would it matter?"
Probably not. What Farrell has created here will ring true for any girl who's ever faked an orgasm or thrown up at a house party and continued on with life, undeterred—which is probably more of them than you'd think.
I'll be teaching two classes at Langara College this fall—Getting Started with Fiction Writing beginning in October and Flash Fiction & Prose Poetry in November.

Course summaries are below, but for more information, check out the Langara Continuing Studies website
Fiction Writing- Getting Started (CREA1014)
Explore how everyday events can be transformed into gripping fiction. Through a range of exercises you will learn how to turn ideas into full-blown stories. Topics include writing from life, developing characters, exploring different points of view, creating dialogue, and plot lines. Students will complete a series of short scenes or a story draft.
8 eve - We Oct 13, 2010 - 1900-2130
Flash Fiction and the Prose Poem (CREA1009)
Explore your voice in this genre-bending course open to all writers! The popular short-short story, also known as "flash fiction", condenses narrative to its very essence in only one to four pages. Prose poems are even shorter, and equally addictive, often surreal or subversive, and they make unexpected leaps. In this class, we consider each genre separately and discuss the ways in which they overlap. We write our own prose poems, short-short stories and learn techniques such as dialogue, plot, imagery and lyricism. The ultimate goal is to enter a piece of flash fiction or a prose poem in a national contest.
Note: No class November 11th.
4 eve - Th Nov 04, 2010 - 1830-2130
The Devil You Know got picked as one of Stuart Derdeyn's Weekly Fun Five!

I'm honoured to be in the same ranks as the PNE, and delighted that someone out there considers TDYK to be great beach reading….
This festival, held October 14th to 17th, 2010, celebrates its ninth year with one heck of a lineup. I'll be delivering a double-whammy on Saturday the 16th, first with a panel discussion on "The State of Book Publishing Today", and then an epic evening reading alonside superstars like Caroline Adderson, Brian Bett, and so many more. Best of all, the event is emceed by my old pal Stephen Vogler, whom I'm sure is just itching to buy me a beer. Go here for more info, including a PDF of the complete festival program, and how to purchase tickets. See you on the mountain!
/